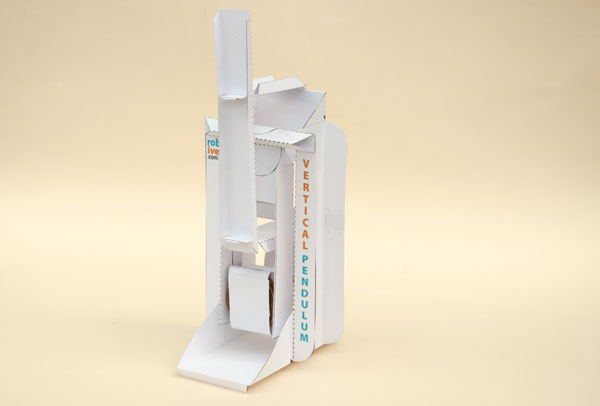 Vertical pendulum, Move the box and the main shaft at the front rocks up and down. This mechanism is destined to be used in the heart of a paper animation, perhaps a hopping frog or a moon walking spaceman. Build the project and bring it alive with your own character!
As usual, members can download the project for free, thanks for signing up. Non-members can download the parts for £2.50
---
Vertical Pendulum in action.
---

Print out the first two parts sheets onto thin card (230 micron / 67lb), the third sheet contains hinges, it should be printed onto standard 80gsm printer paper. Paper makes a good flexible hinge.
---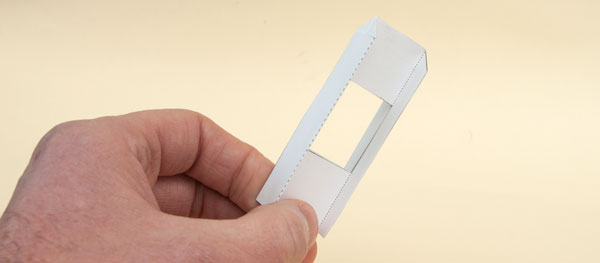 Glue the two pendulum pieces back to back then glue down the two side flaps.
---

Glue the paper hinge into place.
---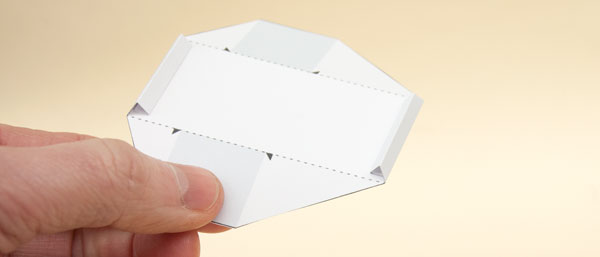 Fold the feet round and glue them down. Note that the creases are valley folds.
---

Glue the two sides to the grey areas on the base. Note that the writing faces towards the longest foot of the base.
---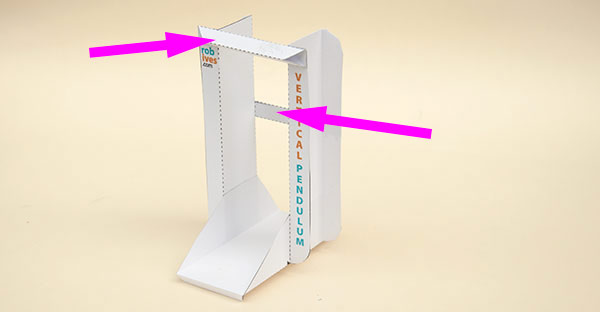 Assemble the two struts and glue them into place on the grey areas.
---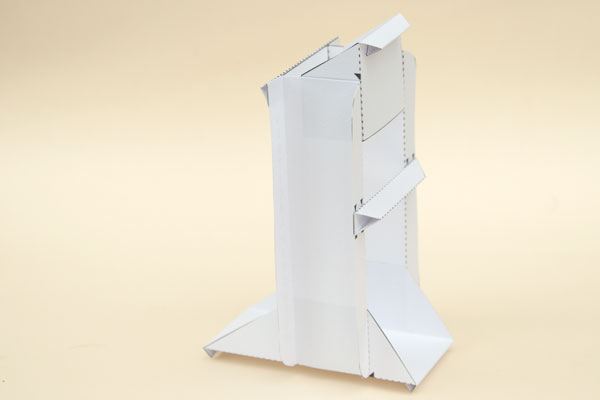 Assemble the top piece and glue it into place using the grey areas for alignment.
---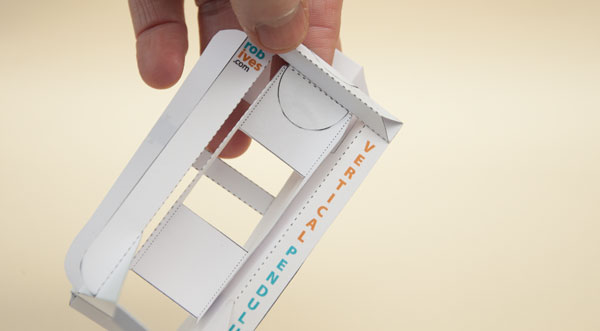 Glue the pendulum so that it hands from the front strut.
---

Assemble the top link as shown. Note that the tongue is completed by folding over the tab and gluing it down to make double thickness card.
---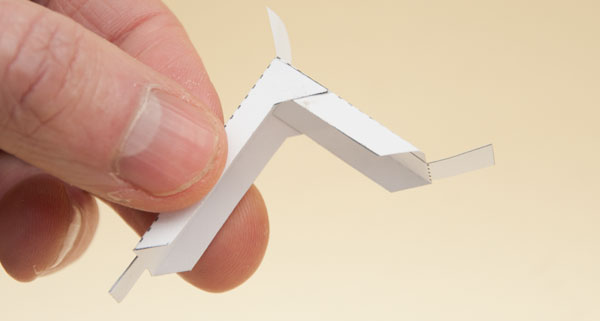 Assemble the bell crank as shown. The tongue is the same as the previous link. Glue two paper hinges into place as shown.
---

You'll need four coins as weights. UK 2p coins are perfect. 25mm in diameter, 7 grams in weight. Wrap each pair of coins tightly in an off-cut of card as shown.
---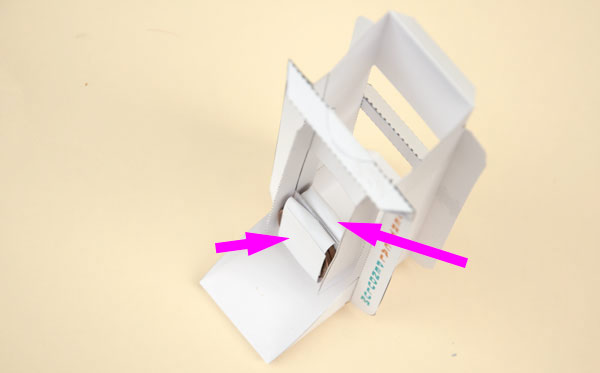 Glue the coin packs to the pendulum front and back.
---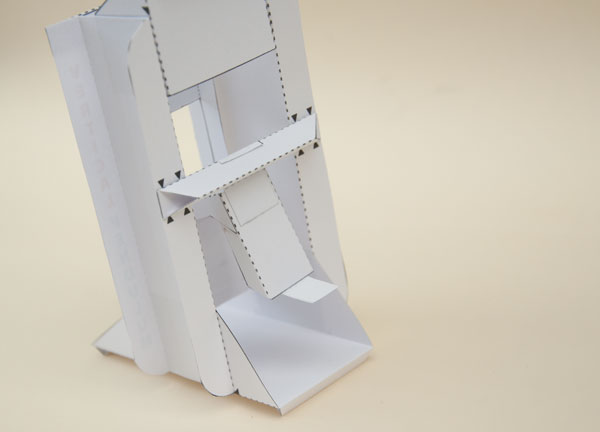 Glue the bell crank to the lower strut
---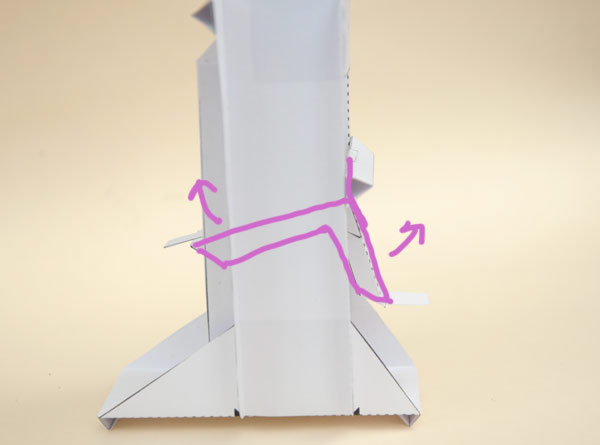 It needs to be free to rock back and forth.
---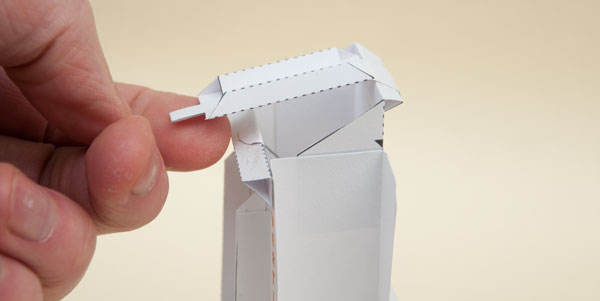 Connect the upper link to the upper strut with a paper hinge.
---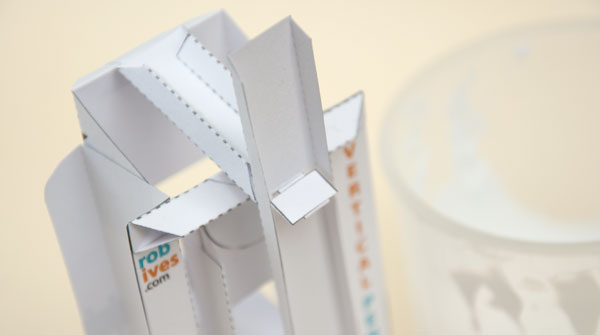 Thread the vertical shaft onto the two tongues and lock it into place by gluing the two tabs into place.
---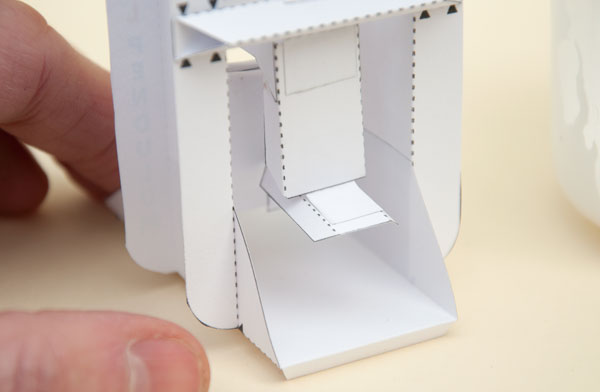 Glue the lower link to the front of the coin pack using a paper hinge.
---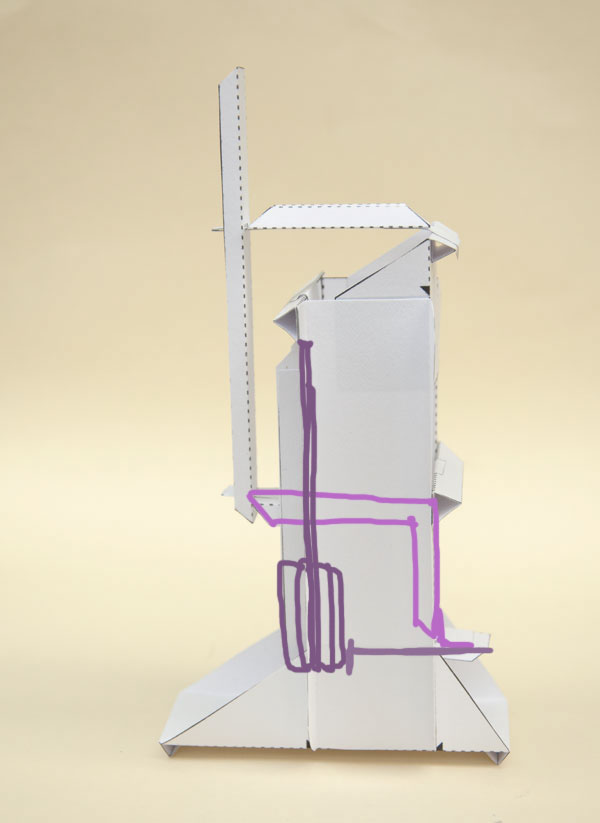 Connect the lower link to the bell crank via the other paper hinge so that the top of the bell crank is sitting horizontally.
---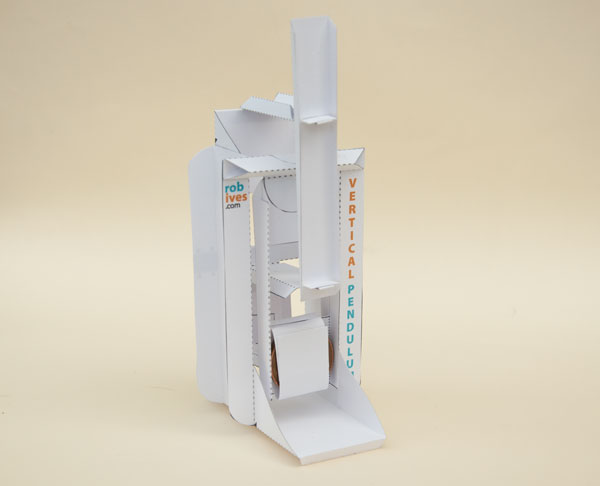 There it is! Move the model and the vertical shaft rocks gently up and down. Next step, add your own character!