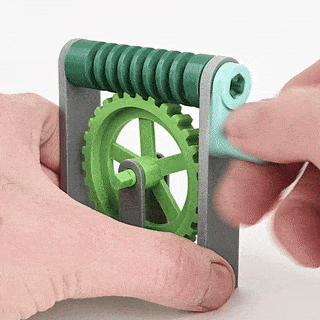 A 3d printed project to download and make on your own 3d Printer. Turn the handle and the worm advances the thirty tooth gear, one tooth at a time. Worm gears are a compact and efficient way to get big speed reductions, make your own and see how they work!
The download includes the .stl files ready to upload to your slicer of choice. Also included is a pdf document showing the simple steps to final assembly. The model here was printed using PLA filament.
Members can download the parts for free by adding to the cart. Non-members can join in the fun for a small fee, or become a member and download this and all the other projects on the site with no charge!