Valentine Elephant to download and make.
A pop up Elephant to make for your Valentine. Fold the elephant flat and slip it into a greeting card. When the card is opened the elephant pops out to the delight for your #truelove.
Members can download the elephant for free at the website, non members can download it for £2.50
I've modified the download slightly so you now get a matching left and right facing elephant as in the picture above. If you have already downloaded the original file, re-download to receive the updated elephants.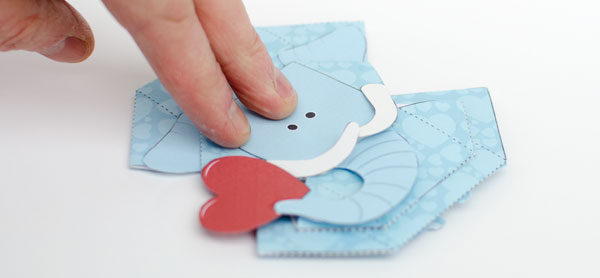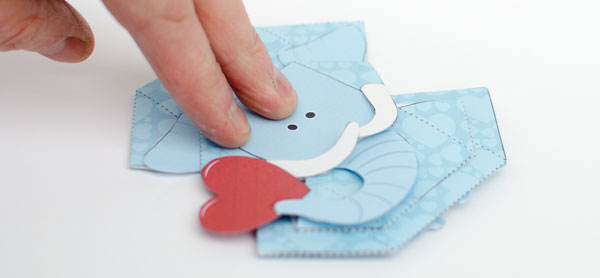 Valentine Elephant folded flat – ready to pop-up!
---

Snap Up Heart.
The Snap-Up Heart folds flat and slips into a card ready to be sent to your true love. When opened the heart pops out and the flutter will spin making your love's heart flatter with delight.
Everyone can download this fun project for free at the website!
---
Fluttering Butterfly
Here's one of the models from the archive that you might enjoy making for Valentine's day. The Fluttering Butterfly is a pendulum powered model to download, print out and make. Any slight movement of the model make the wings tremble and flap.
---
Become a Member of robives.com.
• Download dozens of amazing paper project for free.
• Downloadable project instruction pages as a pdf for printing.
• Reduced website advertising.
Become a member of robives.com now! robives.com is made possible entirely by the support of members and shoppers. I literally couldn't run the site without you. Thank you!
Keeping up to date.
---
Broughton Moor
Maryport
Cumbria
CA15 7RU UK
t. 01900 814333