Posting Out Cam-zines
I made up some recycled packages to post out the limited edition cam-zines. I added a special pull-string opener to make them easy to open. The package itself makes for an interesting project here.
There are still six signed, numbered, limited edition Cam-zines left – grab one of the last ones here.
---
Festive Treat for Members!
As a special thank you to all the members of robives.com, download and make this collapsible tree, perfect as a table decoration.
Thank you to all the members and shoppers on the site for your support over the past year. I literally couldn't run the site without you!
More…
---
Twitter

@robives
I'm up to 310 followers! Have you followed yet? Join the select band and be the first to find out news about robives.com.
More
---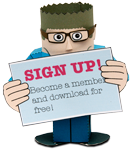 Become a member and access free downloads
Members of robives.com get access to all sorts of amazing downloadable projects. From Cheese Guarding Mice to the belt drive mechanisms
Standard members – from as little as £3 per month – get access to all the projects produced in the last twelve months and everything produced for as long as you remain a member.
Membership + gives you full access to all the downloads in the site for free.
Choose you membership here! £ Membership / US$ Membership
If you are a student / educator or retired person you can sign up for the special reduced price membership starting at only £19.95 for a full year!
Sign up here! £ Membership / US$ Membership
robives.com is run entirely by the support of members and shoppers at the site. Thanks for your support, I couldn't do this without you.
---
Keeping up to date.
---
Broughton Moor
Maryport
Cumbria
CA15 7RU UK
t. 01900 814333