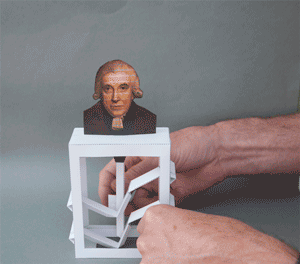 Presented for your entertainment, an animated picture of a paper Watt linkage complete with James Watt.
There are two Watt linkages one above the other which work together the keep the neck piece vertical.
I'll put it together into a download in the next day or so. I'm hoping to expand the mechanisms section so that each mechanism described has its own matching download.
"Ah – Grasshopper – when three bars are joined they can, like the eagle, make a straight line"