Occasionally I will add a video of a back catalogue project to Instagram, just to remind people that it is there. This time it was the Ski Rex model.
You can find and download the model here…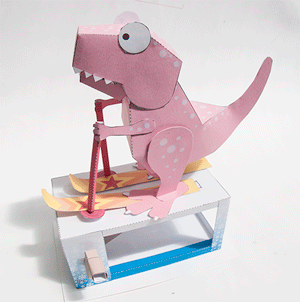 In the original page you will see this animated gif. I made it by taking twelve still photographs in sequence, moving the model one twelveth of a turn between each photo. I then stitched the result together in PhotoShop and output it as an animated gif. The original gif seemed a little to smooth in the ski action so before saving it into Instagram I made a couple of changes.
[clearboth]
I imported the file into Premier, the video editing software. At the extremes of travel of the Ski Rex's skis I add an extra six frame. In effect, I froze the motion for a moment when each ski was forward. If you watch the crank it is easier to see where the pause is. I think the result looks a little more natural. What do you think?