Sssnake

! Original to give away!


Your chance to win the original Snnnake as used in the photography on the website.
If you would like to give home to Snnnake model, visit the website and leave a comment on the blog post. I'll draw a name from the hat of special relativity on 27th May. Thank you!
This give-away is open to all paid members of robives.com . Thanks for signing up!
---
Follow the development of a Bevel Gear!
Visit the website to follow progress of the Bevel Gear model that I'm working on at the moment. The project is nearly complete and will soon be available for download. Find out how it was designed and what problems I faced in the design process.
---
Paper Press Ups – Download and Make.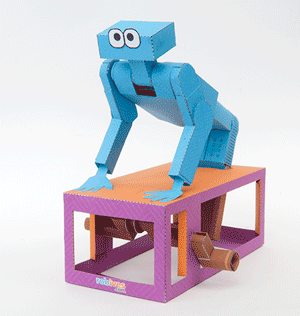 Turn the handle on this crank powered model and the paper robot practices his press ups.
Members can download and make the parts for this model for free, thanks for signing up.
Non members can download it for £2.50 at the website page.
---
Become a Member of robives.com.
• Download dozens of amazing paper project for free.
• Downloadable project instruction pages as a pdf for printing.
• Reduced website advertising.
Become a member of robives.com now! robives.com is made possible entirely by the support of members and shoppers. I literally couldn't run the site without you. Thank you!
Keeping up to date.
---
Broughton Moor
Maryport
Cumbria
CA15 7RU UK
t. 01900 814333