Coaxial Crank Slider! Download and Make.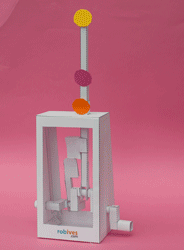 The co-axial crank slider mechanism is designed to be a starting point for your own projects. As the handle is turned the outer tube moves up and down 90 ° ahead of the inner tube creating an organic, fluid motion which can be harnessed for your own character designs.
Members can download the parts for free, thanks for signing up! Non-members can download the project for the usual £2.50.
---
Become a Member of robives.com.
• Download dozens of amazing paper project for free.
• Downloadable project instruction pages as a pdf for printing.
• Reduced website advertising.
Become a member of robives.com now! robives.com is made possible entirely by the support of members and shoppers. I literally couldn't run the site without you. Thank you!
Keeping up to date.
---
Broughton Moor
Maryport
Cumbria
CA15 7RU UK
t. 01900 814333