Poseable T.Rex to Download and Make.
A poseable T.Rex to download and make. This project comes complete with three colour schemes and a line only version for your own designs. The finished T.Rex has poseable arms and legs and a moving head and jaws. Members can download the project for free, non members for £2.50.
---
Factosaurus T.Rex Zine.
Having completed the poseable T.Rex model, fill your brain with fascinating T.Rex facts with this download-and-make T.Rex mini-zine. The zine is of course free for members to download. Thanks for your support, I coudn't run the website without you!
---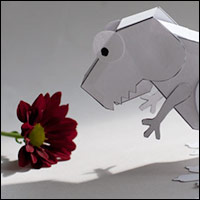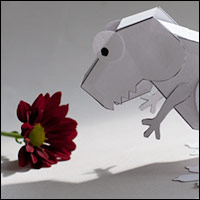 Caption Competition. Last Chance.
Your chance to win a completed Papersausrus T. Rex model. Visit my Facebook page and write a humorous caption in the comments for the T Rex picture with the flower. The caption with the most likes when on Friday 11th May will win a made up model shipped out to them anywhere in the world!
---
Membership.
Members get free access to all the projects that are produced during their membership. With eight new downloads already in 2012 this is amazing value.
Standard Membership is now only $14.95 USD / £9.95 UKP yearly.
Membership Plus is amazing value at only $ 44.95 USD / £29.95 UKP yearly.
---
Keeping up to date.
---
Broughton Moor
Maryport
Cumbria
CA15 7RU UK
t. 01900 814333