Christmas Collection Special.
Five festive models for you to download, print-out and make!
As a newsletter subscriber enter the code CHRISTMAS50 to receive 50% off the price of these paper projects.
Snowman, a paper sculpture, perfect as a table decoration.
Reindeer Ride, including gift cover makes the perfect Christmas gift for your crafty friend.
Ho ho ho, Turn the handle and the jolly Santa laughs!
Santa Popper, a quick and fun model to print out and make
Christmas Kiss, a Christmas card with pull tab. Pull the tab and the delightful characters kiss.
---
Paper Faerie For Your Tree.
A paper project to download and make from robives.com! Download the poseable faerie from the website and make either the colour or mono version. Perfect for your Christmas tree!
More...
---
Candy Santa Table Decoration.
Candy Santa, a fun quick model to download and make. Lift his head and a flood of M&Ms tumble out!
More...
---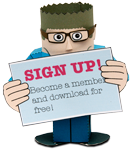 Becoming a Member of robives.com
Members of robives.com get access to all sorts of amazing downloadable projects. From Cheese Guarding Mice to the belt drive mechanisms
Standard members – from as little as £3 per month – get access to all the projects produced in the last twelve months and everything produced for as long as you remain a member.
Membership + gives you full access to all the downloads in the site for free.
Choose you membership here! £ Membership / US$ Membership
If you are a student / educator or retired person you can sign up for the special reduced price membership starting at only £19.95 for a full year!
Sign up here! £ Membership / US$ Membership
robives.com is run entirely by the support of members and shoppers at the site. Thanks for your support, I couldn't do this without you.
---
Keeping up to date.
---
Broughton Moor
Maryport
Cumbria
CA15 7RU UK
t. 01900 814333