I've updated the Belt Drive Project to include a new mechanism with different size wheel – twelve tooth and four tooth. If you have already downloaded the Belt Drive project redownload it from your 'Files' tab to receive the latest update. In the new version the small wheel positively whizzes round! More info…
---
Gift Box with Four Compartments
Here's a project of a slightly different nature from my normal stuff, A way of recycling your old Amzon packages. Follow the instructions to convert them into this interesting four chambered gift box.
More...
---
Disagreeable Sheep Video
Michael42er has done it again! Check out the website to see how he converted the Agreeable Sheep to the Disagreeable Sheep – including a YouTube video.
More...
---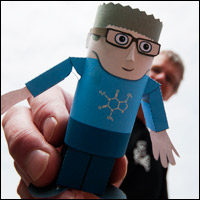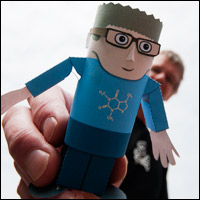 Membership Special for Students/Retired/Educators!
If you are a student / educator or retired person you can sign up for the special reduced price membership starting at only £19.95 for a full year!
Sign up here! £ Membership / US$ Membership
Members of robives.com get access to all sorts of amazing downloadable projects. From pendulum powered tail wagging dogs to the Geneva drive bunny vision. Members also get exclusive access to members' only projects and mechanisms such as the Watt Linkage mechanism and the two-axis joint mentioned below. There are two types of membership
Standard members – from as little as £3 per month – get access to all the projects produced in the last twelve months and everything produced for as long as you remain a member.
Membership + gives you full access to all the downloads in the site for free.
Choose you membership here! £ Membership / US$ Membership
robives.com is run entirely by the support of members and shoppers at the site. Thanks for your support, I literally couldn't do this without you.
---
Keeping up to date.
---
Broughton Moor
Maryport
Cumbria
CA15 7RU UK
t. 01900 814333