8th April 2010
---
Levers eBook.
A fun and educational ebook project to download, cutout and make. The pack comes as a 25 page pdf file with all the parts and instruction that you need to find out all about levers, how they work, and what they are used for.
---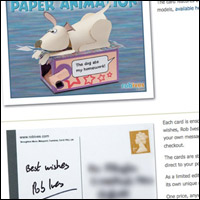 Dog Ate My Homework Postcard.
Your chance to receive a limited edition postcard signed, numbered and posted by yours truly. The card features the Dog Ate my Homework models and is printed on high quality glossy card.
---
Grrrobot!
A fabulous robot model for you to download, print out and make.
Press down on the Grrrobot model's head and he raises his arms in a fierce gesture as if thinking, "I will destroy you all!"
Release the model and his arms return to their position using a GFPS (Gravity Field Power Source) – actually some coins in a tube.
The mechanism is fun and the model is fearsome. What more could you want! Hurry along to the website and grab yourself a copy now.
---
Keep up to date.
As well as the weekly news letter that you are reading now, you can also sign up for the Daily News newsletter. The newsletter keeps you up to date with all the latest news from Workshop Notes.
You can also follow me on Twitter!
More details are on the Keeping In Touch page