The robives.com twitter feed lets you know when there is new stuff on the website – follow here to keep up to date! twitter.com/robives.
Only one more follower and I'm into triple figures!
---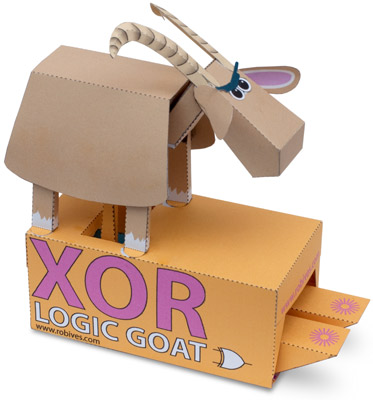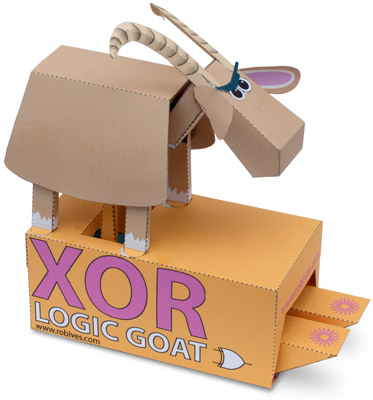 XOR-Goat, New!
Finally! The xor-goat! Just what you needed to complete your Logic Goat set. Just like the rest of our Logic Goats, the xor-goat is to silicon logic gates what the and-goat is to the and-gate. Download, print out and make this paper model then, when you press one button OR the other button the goat nods. But not if you press both. Hence the 'x', which stands for Exclusive. As usual, the download comes with all the parts you need ready to print out, you'll just need add some glue, a few coins (to act as weights) and some basic tools.
As a subscriber you can download for free otherwise a modest fee gets you this mechanical marvel!
---
Subscribe and get free stuff!
As a subscriber you'll be able to freely access the most recent downloadable model, including the latest model, the xor-goat. You'll also be able to access all the new downloadable models released for as long you remain subscribed. As well as this you'll have immediate access to all the exclusive projects from Workshop Notes including this cawing crow model.
More details about subscriptions are here.
---
Downloadable Models
---
Monthly Competition!
We have a new monthly competition up on the www.robives.com website – your chance to win a £10 voucher to spend in the download shop. Hurry along to the website to enter now!