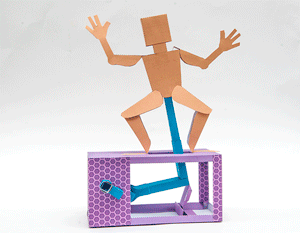 It was such a delight to see the Dancing Man model being used on the Belgium TV show de Schuur van Scheire!
I mentioned in my last newsletter that the video was great to see even though I didn't understand the words. Rising to the implied challenge, newsletter subscriber Charles sent me an email with a translation of the video. It goes something like this
In a few words :
Their wives have been complaining about why they do what they do so they decide to find useful things to do with the Dancing Man, each of the scenes then shows one of these ideas:
To replace our king when he is travelling abroard ("and it is cheaper")
As a dance teacher.
For people who want so see more police on the street.
As a goal keeper. Thibaut Courtois
Thanks Charles, that was really helpful!
You can see the video clip here.