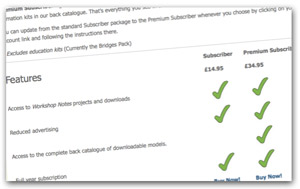 I think I've mentioned before that I'm thinking of adding a subscription system to the website. My plan so far is as follows: (I'm looking for feedback here so please let me know what you think)
You'll still be able to buy downloads and access the website as before and the website will still be open access. On top of that, there will be two types of subscription
Standard Subscription:
A standard subscription will give you free access to all the downloadable models that I create during the lifetime of that subscription. It'll also give you access to the pdf extras that I have been adding to the Workshop Notes blog – these will be restricted to subscribers.
Premium Subscription:
This will be the same as standard subscription but will add access to all the downloadable models in the store with the exception of the education kits (Only the Bridges Pack at the moment. I have plans for more school type projects in the future.)
How much? How does £14.95 a year for standard and £34.95 for a year of premium sound? I guess that after a year of premium, most people will switch to standard as they'll have downloaded the archive. I could also add a reduced subscription period for the standard subscription – say £4.95 for three months standard or £8.95 for six months or both, or all three. I'd really appreciate any feedback you have on this – thanks!