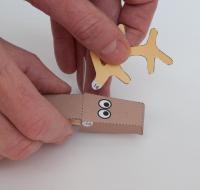 The reindeer model is now ready, complete and uploaded to the web. You can go get your own here.
I've also sent out a newsletter, answered a pile of emails, written this blog post (nearly) and foiled a scammer's attempt to make me send a mobile sold on eBay to Nigeria.
Feel like I've achieved stuff today – too early for a glass of red? I think it is.
You can see the reindeer here.