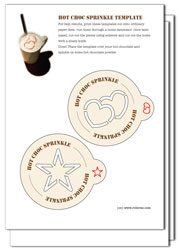 I made a hot chocolate for my True Love. I was adding the usual heart shaped pattern on the top of the drink but somehow managed to rip the template card.
Time to print out a new one. I went to the laptop and there, on the hard disk, was a half completed file of templates that I'd forgotten about. So, while Pauline is watching Ghost (!?) I've completed a set of six templates and this blog entry.
If you're a subscriber you'll be able to download the pdf file at the bottom.
Print out the bits onto paper and run them though your home laminator, this makes the templates water proof, hot choc proof and easy to clean. Once laminated, cut out the parts then cut out the holes with a sharp knife.
Put the templates on top of your hot chocolate drink and sprinkle on some hot choc powder. Ta daa!