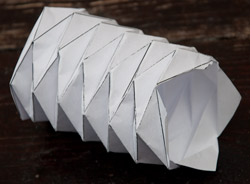 I saw a set of paper bellows on Harry Hill over the weekend. They were folded differently from the ones I normally make so I drew a quick sketch in my notebook so that I could remember how it worked.
Once back in 'the office' I succeeded in converting the sketch into a computer based net. The folding is really tricky but the results are worth the effort. A fun little paper object which may well appear in a future project.
I've uploaded the pdf file onto the website, it is available to subscribers if you fancy a go. Print it out onto ordinary printer paper, score all the dotted lines and cut out the outline. There are no instructions with the file – you'll have to work that out yourself!
I glued up my model with a pritt stick rather than my usual PVA glue. Have fun!