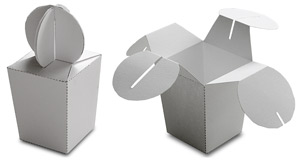 I designed this simple decorative box a while ago to contain a small handful of Thornton's chocolate cherry truffles for my True Love.
I think I made it available for download at the time but the link was lost in the mists of website updates. So – I thought I'd make it available for Subscribers
Too that end I've spent a couple of days reconnecting with my inner geek. I've been installing a subscription module to the website and writing PHP code to control what downloads are available to whom – I reckon it is time for a gentle roll out so – without further ado – as a subscriber you'll be able to download this model from Workshop Notes for free. I've also made the three most recent downloadable models available to subscribers, currently that is Too Much Coffee, Reindeer Ride and Dog Ate My Homework. Subscribers will see a download link if they visit the models pages.
I'll send out a newsletter about subscriptions as soon as I'm convinced that the system is working as it should. Let me know how it goes!