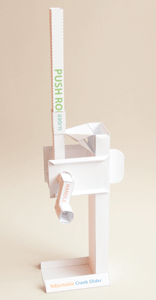 I've finished the layout for the model, printed out the parts, assembled the model and taken the photographs. In the morning I'll post the completed model onto the blog.
I noticed these two pictures as I was preparing the photos for the blog post, by happy chance these two show a sequence so I was able to merge them together to make an animated gif. Its been a while since I made an animated gif and I'd forgotten what to do. Luckily I found this handy tutorial 🙂
Glass of red then bed I think. Night all.