Achimedes Screw in Action!
Wed, 20 Feb 2013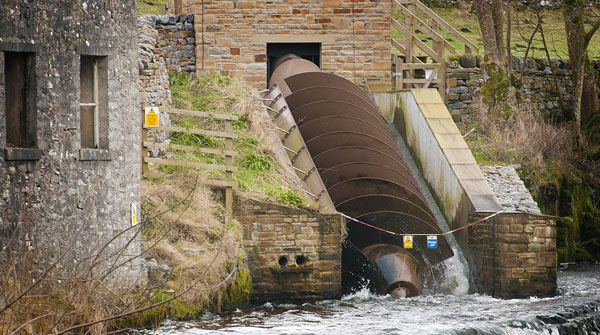 Whilst visiting friends in Bainbridge, North Yorkshire today I can across this mechanical delight. An actual
Archimedes

Screw
actually used to generate electricity. Unfortunately, the delight ends there. I took this photo from the road, as close as I could get to the device. All other accesses were blocked. Piles of wood, no-entry signs, even a string of dead moles! No wonder us
Yorkshiremen
have a reputation for unfriendliness.
Anyway, the information I could glean: the screw is used to generate electricity. Water falls down the chute turning the screw anti-clockwise as you look at it. The generator is housed in the building at the top. That's it. That's all I could find out. No plaque, no info, no wattages, no carbon saved figure, no access. Very frustrating!
<—edit—>
Now with added map.

View Bainbridge in a larger map